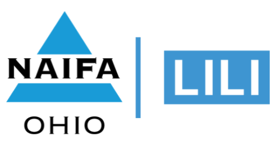 NAIFA-Ohio is forming a 2023 in person LILI Class.
The NAIFA Leadership in Life Institute (LILI) is a six-month leadership development program (one day each month, over six months), devoted to advancing your personal growth and professional success. The intense curriculum creates a unique learning environment that encourages participants to bring out the best in themselves and apply what is learned across every aspect of their lives.

Taking the course is an investment in oneself and the returns on the investment can be infinite.
Graduates consistently report that LILI gives them the tools to succeed and 70% report a measurable increase in the growth of their business since graduating.

The Ohio LILI Class will kick off in April with meetings scheduled for the 3rd Wednesday of each month, continuing through September (9/20 currently slated as our final class). Meetings will be held at Lifetime Financial Growth in Columbus.
"Experiencing LILI was like having a lightbulb go off above my head in each class. The insights I received from both the class and interacting with the other attendees helped me understand my business better, and develop my critical thinking skills, which in turn helped me to become a better insurance agent, and a better man"
More information on class curriculum, expectations, and requirements.
Lifetime Financial Growth
8425 Pulsar Place, Suite 450
Columbus, OH 43240