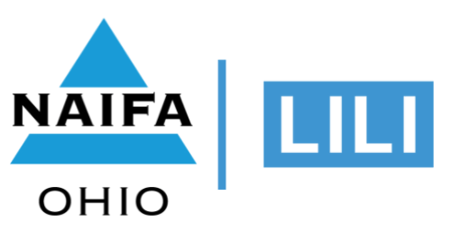 NAIFA-Ohio is forming a 2022 LILI Class in Columbus, OH.
Co-Moderators:
Elie Harriett, CHHC, Mansfield. Loyal member since 2004 and 2009 LILI Class Grad
Brett Ketvertis, CLU, ChFC, Westlake. Loyal member since 2006 and 2016 LILI Class Grad.
The NAIFA Leadership in Life Institute (LILI) is a leadership development program that develops leaders by fostering personal growth, enhancing business practices, and developing skills necessary for effective leadership.

6 Classes | $900/print materials | $800/digital materials

Lifetime Financial Growth
8425 Pulsar Pl, Suite 450
Columbus, OH 43240
Class Dates:
April 13
May 18
June 15
July 20
August 17
September 21
October 19 (Alternate Final Class Date)
Class sizes are limited to 8 participants!
$200 reimbursement from either your local chapter* or the state chapter upon graduation.
*Members of NAIFA-Columbus please contact your local officers for information and eligibility on reimbursement.
For more information on the Ohio LILI Course: Click Here
For more information on LILI class curriculum, expectations, and requirements: Click Here